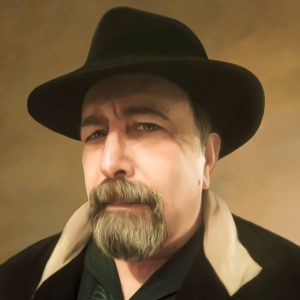 Chick Ciccarelli is a senior-level executive with over 40+ years experience in the ad business. His unique marketing strategies have often redefined the standards of advertising.
He's re-thought the selling processes of everything from motion pictures to media space and helped brand hundreds of products, companies and individuals. Many of his campaigns captured number one market positions.
While he has been involved in a wide variety of advertising roles and positions, he is most sought for his work as a Branding Strategist, Campaign Art Director and Web Developer.
Chick is currently the CEO of WebWizards® Network, Inc. (Internet retail outlets offering personalized ground support, private/public classes and traditional web presence services for local Internet users and small businesses) see WebWizards NoHo/Valley Village. Notable accounts include the Songwriters Hall of Fame®, the Latin Songwriters Hall of Fame®, Bullseye Music (Rudy Perez), Deston Entertainment (Desmond Child), Record Plant, Y Entertainment Group, Artists Group International, VitalValt and the Space Games Federation (NASA). Chick also serves as a special United States Representative for Radio.co in England.
Chick was formerly the CEO of MediaBuys, LLC (once the largest media buying club in the nation). He worked on high profile projects with AFM Advertising such as the GRAMMY Awards, Latin GRAMMY Awards, EIF's GRAMMY Jam, MusiCares, the BFCA's Critics' Choice Awards, the Sundance Film Festival, RKO Distribution and the Hollywood Symphony Orchestra.
In late 2005, MediaBuys became the ad agency of record for the City of New Orleans to find sponsors for Mardi Gras after the devastation from Hurricane Katrina. With only 30 days before Mardi Gras season, Chick launched a national sponsor-seeking effort and signed Glad Products as the first sponsor in Mardi Gras' 150 year history to help the city generate badly needed revenue.
In the film and television post-production industry, Chick developed Editvu® (an online digital video delivery system used by companies such as ABC Daytime, Castlerock Entertainment, Disney Channel, Ogilvy and Sony Pictures). As VP of Communications at L.A. Digital, Chick's advertising campaign helped the company into a number one market position and as VP of Communications at Moviola, he helped the company resurrect it's 75 year old brand that had been laying dormant for 20 years, and captured a number one market position.
Chick also co-founded Theafilm Distribution Network. As Executive Vice President he created and developed the highly publicized 'flat-lease' motion picture distribution process, reviewing over 200 films from HBO, Showtime, Dino Delaurentis and other well-known film producers and production companies. During his tenure, he implemented the national theatrical trailer exhibition of "Wing Commander-IV" on 570 General Cinema screens, a first for the electronic gaming industry.
As Senior Art Director at Lewis Anthony Advertising (formerly Reeds Farris & Lewis), Chick helped capture a number one national market position for Custom Building Products, MGM Grand Air and a number one International market position for WorldPortLA (The Port of Los Angeles).
Chick has won numerous national design awards in both print and web development and was honored by the Smithsonian Institute for his promotional contribution to the historical Voyager flight around the world. He is a member of the National Academy of Media Arts & Sciences, finals judge for the International Business Awards (The Stevies), and a GLG Council Member (world professional learning and expertise network).
Chick lives in Los Angeles CA with his wife Julia, is an avid follower of boxing, is a New York Yankees fan and loves teaching web programming techniques to people in the surrounding community at his Valley Village WebWizards studio.
AWARDS
City of New Orleans, Appreciation Proclamation (2006)
City of Los Angeles, Certificate of Appreciation (2005)
Who's Who World, Marketing (2004)
Who's Who of America, Marketing (2003, 2004)
EPpy Award Finalist, MediaBuys.us (2003)
U.S. Small Business Advisory Council Web Awards, (2001, 2002)
Macromedia Site of the Day-Configurator (2000)
Most Humorous Website Greedypeople.com, Hon Mention-L.A. Times (1995)
Certificate of Honor from Smithsonian Institute for Voyager Flight (1987)
Printing Industries of America Awards (6 total-1985, 1986, 1988)
Art Directors Club of Los Angeles (4 total-1987)
Business Professionals Advertising Association (2 total-1988)
American Institute of Graphic Arts Awards (4 total-1986, 1988, 1990, 1991)